From the reasoning of the Dawg name to the best comic book authors, from the history of the Hot to a timeline of industrial music, Cory has the trivia, and the opinions to mouth off about it.
Ryan Schutz is the Regional Director for the mountain states of the US for IMBA. Before that, he was half (okay, 2/3rds) of a trail care crew with his wife that crisscrossed the nation like some wayward pied piper with a shovel and a McLeod. If you have been to a mountain bike festival, you have met Ryan. Needless to say, the guy knows trails, advocacy clubs, and bikes better than nearly anyone. Here's a quick Q&A that we had on the state of mountain biking advocacy today.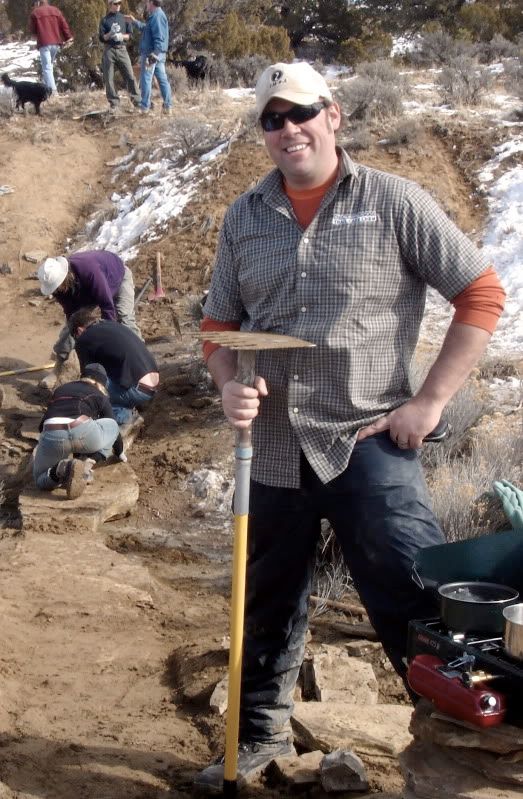 Cory: How long have you worked at IMBA?
Ryan: 3 1/2 years
C: You've gotten to ride all over the country, what's your favorite trail system, and why?
R: Is it too broad to say the Cascade Mountains in Oregon? I've yet to ride a trail there that isn't spectacularly beautiful and absolutely flow-tastic. The McKenzie River Trail is my favorite trail on the planet. Big forest, waterfalls, techy at the top, then increasingly flowy, plus it has history. I love the old trails, like McKenzie or the Womble (in Arkansas), that were sustainably built to complement their landscape and continue to get better with age.

C: What's the best trail system that not many people know of?
R: Man, that's a tough one. There are so many. If I have to pick one I'm going with the trails around Copper Harbor on Michigan's Upper Peninsula. Big views, epic terrain, and trails for every taste.
C: Of all the things you've worked on at IMBA, what do you count as your greatest success?
R: There isn't much that I can count as my own success, every good thing I've done at IMBA was made possible by my colleagues and a community of advocates. But I take the most pride in projects where I've been able to help the local mountain bike community realize and identify what is possible if we put our internal turf battles aside and work together. A community with a vision is a powerful thing. Portland, Oregon is a great example of this. Last year there were 3 clubs in Portland, a town with tons of cycling culture but very little singletrack, that didn't really work together. Today, there's one unified club and the possibilities seem endless. An anonymous donor even committed $1,000,000 to the Gateway Green mountain bike park in the heart of Portland. I'm proud to be part of that.
C: What's the greatest challenge facing mountain bike advocacy in the next ten years? What can we do to fix it?
R: The greatest challenge will be keeping up with the opportunities. Mountain bikers have proven their quality as passive outdoor recreationalists. We fix the trails, we build the trails, we sign the trails, we patrol the trails, and we reclaim the nasty old trails that need to go away. This dedication and hard work has lead to tons of new trail opportunities. But in the course of establishing ourselves as a community that regularly gives back more than we get, we've failed to get organized in a way that we can take advantage of opportunities, like building new trail systems, without exhausting our volunteer resources. Building trail is hard, often thankless, work that only appeals to a very small percentage of mountain bikers (about .5% – that's one- half of one percent!). The DIY ethic has taken us a long way, but we'll only be able to take advantage of the many opportunities that lay before us when we get organized, grow our network, and start fund raising. We must be more inclusive and strive to work together. We're better together.
C: How many bikes do you currently own?
R: Uhhhhh. 10? Something like that. I think my wife and I currently own 19 bikes between the two of us. Full suspension, no suspension, roadies, fixies, cruisers, singlespeeds, BMX, track, and on and on and on.
C: You're going riding right now, what bike do you grab?
R: I actually am going riding right now, on the pump track in my back yard, so I'm going to grab the bmx cruiser.
C: What can the average mountain biker out there to do help IMBA the most?
R: Join IMBA. Membership revenue sustains us, but the political clout that we gain from growing our constituency is even more valuable. Then get involved locally. Do what you are good at. If you throw a good party, plan a party to market or fund raiser for your local club. If you're well connected, figure out what the club needs and introduce them to the right people. Don't feel like you have to fall into the stereotype of doing trail work and attending meetings. Those things are important, but there is a role for everyone with the local club. They need your talents, they just might not know it yet.
C: What else can mountain bikers do to gain respect with public lands, and getting more land for trails?
R: Get organized and showcase the positive results that come from more mountain bike trails: better maintained trails, more sustainable trails, more kids on trails, and on and on and on…
C: What individual or small organization deserves the most props for helping IMBA recently? I know there's some cool clubs out there really making it happen.
R: Wow, too many to mention. One group that's just getting started is the SF Urban Riders in San Francisco. They seem to be doing everything right, turning every threat into an opportunity, thinking big, raising money, and getting the community involved. I hope that they become a shining example of how to get things done in the Bay Area, only time will tell.
C: You can have only one brand/flavor of beer for the rest of your life. What do you pick?
R: That question is basically insane. I'm tempted not to answer. But if I've gotta pick, I'm going with hoppy pints of Colorado Kind Ale straight out of the nitro taps at the Southern Sun Brewery in my 'hood.
C: You guys spend lots on long hours in your cars traveling around the country. What gets played on the stereo to keep from falling asleep? What snack food keeps you fueled and (somewhat) sane?
R: I've spent too much time in the IMBAru to rely on one type of music. Nothing gets me across the long stretch of I-80 through Nebraska or I-70 through Kansas like a heady mix of Outkast and the Wu-Tang Clan. Curvy mountain road driving demands high octane bluegrass, rockabilly, or punk. City driving may require Jack Johnson, Ben Harper, or Morphine, depending on conditions. When it comes to road food there is only one answer for me: wasabi covered anything (peas, almonds, jerky…).
C: Where would you most like to see trails get developed?
R: In urban and suburban parks, close to the people. I believe that mountain biking will be one of the most effective tools for getting people back outside, we just need to put the facilities where the people are.
C: What's the most common trail building error you see?
R: Too steep!!!!! Max sustainable grades in most soils are around 8-10% grade, and that's plenty steep for whatever kind of trail experience that you might want to create, short of a World Cup DH. A-Line averages 11% and that trail is full of breaking bumps.
C: What is the single best thing a person can learn for building trails?
R: There are 1000 ways to do it right, and only a few ways to do it wrong. Learn what doesn't work, that'll open you up to a world of possibilities.