From the reasoning of the Dawg name to the best comic book authors, from the history of the Hot to a timeline of industrial music, Cory has the trivia, and the opinions to mouth off about it.
Team Seagal is a different kind of team. First and most noticeably, they're named after Steven Seagal. Yeah, that's different. They race singlespeeds in St. Louis, MO (and now Milwaukee, WI) and two of their biggest sponsors are Pabst Blue Ribbon and Kona Bicycles. Oh, and the races they put on? Those are called Non-Races. Okay.

Team Seagal cares about going fast, (and go fast they do) but that's not the most important thing for them. Having fun, not taking themselves too seriously, and focusing on the ride as much as the race is what fuels this team. What follows is an explanation from this not-so-normal team: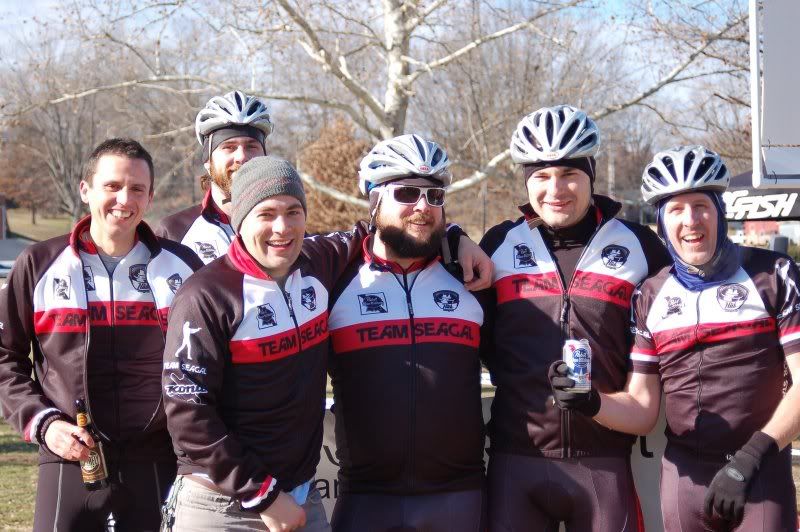 Why Steven Seagal?
Greg S: (Gino Felino) Can you think of a better morbidly obese martial arts action star?
Matt G: (Casey Ryback) Well, it was a toss-up between Dolph Lundgren, Arnold Schwarzenegger, Van Damme, and Stallone. As our team evolved and we all got more into the racing scene, we found that it is a fun way to separate us from the rest of the pack. When we started, it was 100% about challenging ourselves and doing our absolute best, but not taking ourselves too seriously, and this allows for that. If we were just some generic "Team Shop-X" or "Team Company-X" then the only thing that would be important would be results. With this not-so-serious persona, people react positively to us pretty much all the time, and it doesn't always have to do with recent results – they just like how we do it!
Please explain the nicknames.
Casey Ryback: When writing the blog, the use of these nicknames allows us to put a funny and fresh spin on the typical race report, and is one of the many ways that we keep ourselves from getting so far up our asses with racing that it we lose focus on the important stuff.
Did anything specific make you guys focus on singlespeeds? Was it just a preference, or are you making a specific statement?
Matt H: (Mason Storm) The first race we ever did as Team Seagal was 2006 24hrs of Landahl in the Single Rigid category, so I guess it just kind of worked out that way. All of us ride Single speeds exclusively and I don't see any reason to go back to gears anytime soon.
What motivates you as a team?
Mason Storm: As a team I think we just have it hard wired for fun, and we care more about just racing as much as we can and not about our results. That has really worked in our (my) favor as the results just seem to follow if you're in it for the right reasons.
Gino Fellino: As a team were all a little different, but I'd say we all care about the fun. Ripping singletrack, post ride beers, beer hand-offs at the CX races, cheering on other racers, whatever. Just make it fun, Make it a party.
Why do you think Kona is a good fit for Team Seagal?
Mason Storm: I have always associated Kona with having FUN, and having FUN is what TS is all about. Not to mention your bikes are BADASS!
Gino Fellino: You guys love bikes. From what I hear you all ride. Three: you recognize bikes and a party go hand in hand, right? The fun on a bike is more important than anything else.
What are the long term plans/goals of Team Seagal?
Casey Ryback: We like the idea of helping put on a race series of some sort, such as a CX or short track series. We would like to expand our Non-Races as well, that's for sure. It all boils down to strengthening our community. And going faster.
Gino Fellino: Just keep growing. Not so much team members, although that too, but more the cycling community. Growing the number of people showing up at races. Getting people to recognize racing can be fun. Segregating all of the stuck up racers (mostly roadies) onto some deserted island somewhere where the only thing to do is watch repeating episodes of My Two Dads.
Follow the Madness at http://www.teamseagal.blogspot.com/ and http://teamseagalmke.blogspot.com/